Hi Guys! The wait is over and I can happy announce "Legendary Visions" ,my artbook , published by the guys of

You can pre-order on amazon at best price, only $28.93!. btw, for international request, amazon ships worldwide! You can preorder it here, for anyone in other countries, most of these sites do ship worldwide:
Amazon USA:
www.amazon.com/gp/product/1926…
Amazon Canada:
www.amazon.ca/Legendary-Vision…
Amazon UK:
www.amazon.co.uk/Legendary-Vis…
Amazon France:
www.amazon.fr/Legendary-Vision…
Amazon Germany:
www.amazon.de/Legendary-Vision…
Amazon Japan:
www.amazon.co.jp/Legendary-Vis…
======================0======================
The heroes, villains, monsters, and gods of legend have captivated the imaginations of artists and audiences alike for millennia. Now, Chile's premiere fantasy painter captures these larger than life figures in LEGENDARY VISIONS: THE ART OF GENZOMAN, a new art book from UDON Entertainment.
LEGENDARY VISIONS collects the breathtaking works of artist Gonzalo Ordóñez Arias, also known as Genzoman! Inside you'll find spectacular renderings of the gods and heroes of ancient Greece, Egypt, South America, Scandinavia, Asia and more. Also included are fantastic interpretations of real life historical figures so amazing that they have become legendary themselves, such as Caribbean pirates, Japanese warriors, Middle Eastern royalty, and Egyptian pharaohs.
This 208-page full-color volume will make an excellent addition to any mythology or art book aficionado's collection! LEGENDARY VISIONS: THE ART OF GENZOMAN arrives in stores everywhere May 2011.
======================0======================
more at Udon´s blog
www.udonentertainment.com/blog…
Oh, BTW, one f the pics I done for World of Warcraft, Erindae Firestrider is the cover of GamePro #270 Mar 2011 issue

Yay!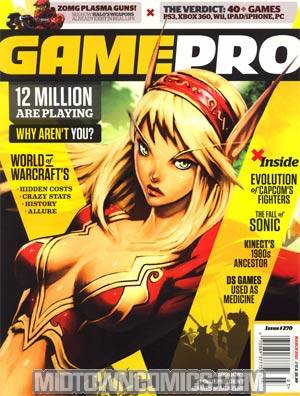 TO ALL MY WATCHERS: If you dont get my updates is maybe beacuse this issue affected your watchlist. Please add me again!! Thanks!

--------------------------------0--------------------------------
NOTICE TO ALL COMMISSIONERS (if I owe you an image)
--------------------------------0--------------------------------
Sadly I lost my e-mail account (stoled also, avoid it

) and my notes, if I had business with you (commissions, projects or any other work in progress)
Please take contact with me, send me a note or write me to this new mail: genzomancontact@gmail.com